Results for - Do-it-yourself tie blankets
1,542 voters participated in this survey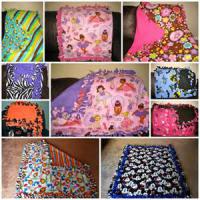 1. Tie blankets are made by taking two fleece panels of your choice of color and design, cutting slits a little over 5" (13 cm) long and 1"(2.5 cm) apart all along the edges, and tying them together to make a blanket. Is this something you would like to try?
Yes, it looks fun/creative
I have no interest in making one
2. If you have made a tie blanket, what color scheme/pattern did you pick for the fabric of your choice?
Solid colors on both sides
A printed design on one side, solid on the other
Printed designs on both sides
I used a pre-assembled kit, so I did not choose the colors/designs
3. Would you rather select the fabric designs/colors yourself, or buy a kit that already has selected matching fleece panels to make the blanket?
I would prefer to pick the colors/designs myself
I would like to try both (or have tried both)
I have no interest in making a tie blanket
4. What kind of design would you want a tie blanket to have, if you were to make one?
Cute designs, such as hearts, teddy bears, candy, dolls, etc.
Nature designs, such as wild animals, tropical patterns, clouds/moon & stars, etc.
Licensed character-printed fabric (The Nightmare Before Christmas, Disney, Star Wars, etc.)
Hunting or sports-themed fabric
5. Have you ever received a hand-made tie blanket as a gift?
09/15/2015
Products
1542
14
By: GossamerDoll
Comments