Results for - US Independence Day and Canada Day are around the corner. This long weekend inspires get togethers with friends and family. What favorites mark this weekend?
510 voters participated in this survey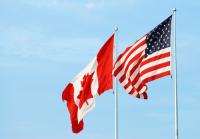 1. Your favorite way to celebrate
Quiet get together with a few friends
Theme party; beach, period themes like the 60's, etc
Parties with games i.e. beer pong, horseshoes, Olympic party
2. Check your favorite party appetizers
Shrimp and cocktail sauce
4. Favorite place to be on this long weekend
In the City/town where you live
In the country at a cabin/cottage
5. Do you think its okay to have a wedding on a long weekend?
Yes - great opportunity for people to get together
No - I consider this a sacred holiday for family and close friends
07/09/2012
Canada 2012
510
9
By: jilly
Comments