Results for - Cleveland Radio Station Bans 'Baby it's Cold Outside'
2,320 voters participated in this survey
1. A Cleveland radio station has banned the song 'Baby it's Cold Outside,' saying the song's lyrics – which were written in 1944 – are inappropriate in the era of #MeToo. Citing that the song may glorify date rape, the radio station, Star 102 has pulled the holiday classic from its playlist. At the very least, the station argues, "the call-and-response lyrics — "Say, what's in this drink?" — are troubling in the #MeToo era. The woman in the song keeps saying she needs to get home! But the man seems to think her no means yes! This sweet-talking predator is plying this vulnerable debutante with booze and alarmist weather forecasts to notch a carnal conquest that is non-consensual". Originally the song's writer Frank Loesser regularly performed the song as a party trick with his wife. It won an Oscar for the 1949 movie Neptune's Daughter. It has been covered by countless singers, including Eddie Fisher and June Hutton, Dean Martin, Lee Ann Womack and Harry Connick Jr., Steve Lawrence and Eydie Gorme, Lady Gaga and Joseph Gordon-Levitt, Michael Buble and even appeared in the movie "Elf". Do you think the song should be banned?
No, but the lyrics are a bit questionable
2. If this song is banned, this could be only the beginning of holiday songs being pulled from the radio. Which of these classics (using the term loosely in some cases) should also be banned?
"Grandma Got Run Over By a Reindeer" -- In this song, a senior citizen with Alzheimer's is the victim of a hit-and-run by a marauding arctic deer. So this family let grandma out the door after she forgot to take her meds because she was sloshed on eggnog? Got it. The craziest part is they don't care that grandma's crumpled body was found with "hoofprints on her forehead." Grandpa isn't mourning; he's too busy watching football and drinking beer and playing cards with cousin Mel. These lunatics are happy grandma is dead. They even thank Santa at the very end.
"Please Daddy Don't Get Drunk This Christmas" -- Nothing conveys the spirit of the holidays better than a small child pleading with his alcoholic father to not get drunk and wipe out under the tree again. Even John Denver's beautiful voice can't mask the dark insinuation of domestic abuse.
"Santa Baby" -- Speaking of which, how is PETA not up in arms over this classic? In the very first line, the cooing woman demands a sable. When not blitzing Santa with euphemistic pillow talk — "trim my Christmas tree," "fill my stocking with a duplex" — this gold-digger is begging for convertibles and yachts. Christmas is about giving, but this lady of the night just wants to rob Santa blind.
"Santa Claus Is Coming To Town"-- I beg your pardon? He sees you when you're sleeping? He knows when you're awake? You better watch out? You better not cry? Is this a Christmas song or a threat from? Children, behave and stop squabbling. Eat your vegetables. Obey. Be good. If not, this bearded, overweight stranger will invade the skies in his magical sled and climb into your bedroom after covertly spying on you for the past 364 days.
"All I Want For Christmas Is You" -- Mariah Carey doesn't want "a lot" for Christmas — JUST YOU. And if Santa doesn't put your body under her tree — even after she gives him a lap dance — then gosh darn it, Mariah will commandeer the reindeer and hunt you down herself, singing until the tears roll down your cheeks and you realize you will never, ever escape the rusty chains on her bed.
"I Saw Mommy Kissing Santa Claus" -- So this kid creeps down the stairs and catches his mother making out with a man who is not his father. (If he thought it was Pops under that beard, he wouldn't say, "I'm gonna tell my dad.") Voyeurism, adultery, exhibitionism, shattered innocence — what kind of sicko wrote this?
"Back Door Santa" -- Bon Jovi paired demonic keyboards and screeching guitars with an alarming pub brag about how, as Santa, he breaks into houses to deliver "presents" that make "all the little girls happy." Santa as a back-door sex offender with an insatiable appetite for kids?
"White Christmas" -- "May your days be merry and bright/And may all your Christmases be white." Come on. It's 2018. There's no way this song is about snow.
Don't touch any of these classics (again, loosely)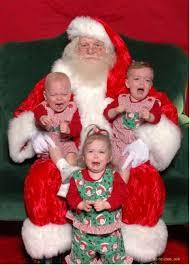 3. And why stop at Christmas songs? Maybe these holiday traditions should also be banned -- do you agree?
Children sitting on Santa's knee -- what kind of message are you sending your kids, asking them to sit on a strange man's knee and ask for things?
Kissing under the mistletoe -- with flu season in its prime, does it really make sense to kiss just because you're under mistletoe
Leaving cookies and milk out for Santa - really, does the jolly man in Red really need all those calories and what if he's lactose-intolerant? Maybe a nice salad would be better (maybe just not romaine)?
No I don't agree with any of these being banned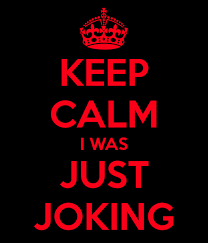 4. I know some of you will not get that I am not serious about banning any of these -- in fact I don't even think the song "Baby, It's Cold Outside" should be banned. Did you think I was serious about banning all of these songs and traditions?
No, I knew you were not serious
Yes, I thought you were serious
12/05/2018
Seasons
2320
94
By: Harriet56
Comments