Results for - Snow A Little Kindness
2,265 voters participated in this survey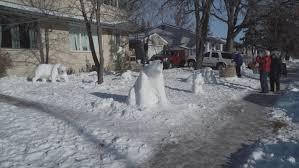 1. In Winnipeg, Manitoba one woman is trying to bring a little light and positivity into her community, one snow shovel at a time. Vinora Bennett, a mother of three, like many, built a snowman earlier this winter. But she yearned to branch out and build more. "I went online and I saw this picture of two snow bears," she said. "I tried it and it worked, so it went from there." For about a week, Bennett has built polar bears from snow on her front yard on Barrington Avenue. There are over a dozen sculptures on her lawn now. The exhibit is dubbed "Bears on Barrington." Its popularity in the neighbourhood is part of the reason Bennett continues to add to it, as it brings a smile to everyone's face -- something that is in short supply now during the city's lockdown. Have you ever tried to make a snow bear?
Do not really have snow where I live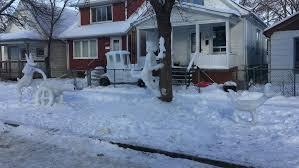 2. A fellow Winnipeg man has turned his front yard into a positively "looney" ice sculpture garden. Leigh Keast creates ice sculptures for the community to enjoy every year. This year's theme takes inspiration from the popular cartoon series Looney tunes. The display features fan favourite characters like Sylvester, Tweety Bird, and the Road Runner. It even has Wiley Coyote wielding a functional ACME cannon that shoots out baseballs. Keast said he wanted to pick a theme that could appeal to all ages, and went with a family-oriented theme because of COVID. Have you ever tried your hand at ice sculpturing?
No, but now I may give it a try
Do not really have snow where I live
3. This man decided to turn a mundane chore into a work of art. This viral YouTube video shows what you can do with a lot of snow, and even more time. Have you ever tried anything like this?
No, but I am going to give it a try
Do not have snow where I live
4. This video went viral too, for all the wrong reasons. This is a lesson on how NOT to try and clear your snow. This Kentucky man decided a flamethrower was the way to clear his ice and snow, which was not the brightest thing to do. He obviously thought it was, since he videotaped it, but it could go so terribly wrong. Would you or have you ever cleared your ice/snow with a flamethrower?
Not a concern, as we do not get ice/snow
01/24/2021
Seasons
2265
40
By: Harriet56
Comments