Results for - Favorite Picture Contest For Mother's Day!
3,209 voters participated in this survey
Tellwut is holding a Mother's Day contest from May 6-13th! Send in your favorite picture of yourself with your mother and receive 25 Tellwut points! The photo will then be placed on Facebook for Tellwutter's to vote on. The top three photo's with the most 'likes' will go onto the Question of the Day to be voted on along with two more pictures that the Tellwut Staff have selected. The photo with the most votes will receive a $25.00 gift card of your choice. The four runner ups will receive 250 Tellwut Points! Note: You must send only ONE Mother's Day photo to Support@Tellwut.com. The pictures will be posted on Facebook from the 14th-16th to be voted on. Voting for the Mother Day pictures for the Question of the Day will being Friday, May 17th, 2013. The winner will be announced on Monday, May 20, 2013 Don't forget you only have until the 13th to send in your Favorite Mother's Day photo!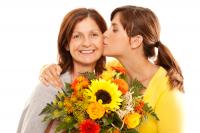 1. Are you going to be celebrating Mother's Day?
Yes, I will be celebrating Mother's Day
No, I will not be celebrating Mother's Day
2. What do you normally do to celebrate Mother's Day?
Take your mother out for a meal on you
Give your mother a gift card
Buy a gift that she has requested
3. What is your relationship with your mother like?
We are very close- like best friends
We are not close to another at all
4. Does your mother usually like what you give her for Mother's Day?
05/14/2013
Seasons
3209
23
By: Tellwut
Earn Rewards Live
Comments