Results for - Tornadoes and Violent Storms
1,703 voters participated in this survey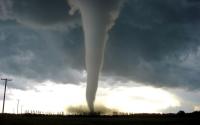 1. Have you ever experienced a tornado?
2. Have you ever seen a tornado?
3. This was a violent storm that happened in Fredericton, NB Canada...have you had this sort of violent storm before?
4. These are pictures from the same storm. Do you think it could have been a tornadic storm?
5. Would you like to see a tornado in real life (but from a relatively safe distance)?
06/03/2015
Seasons
1703
31
By: suvoth
Comments