Results for - Terry Fox -- 35 Years Of His Marathon Of Hope
1,564 voters participated in this survey
1. Terry Fox is a Canadian icon and hero, to say the least. Diagnosed with osteosarcoma, a form of cancer that often starts near the knees, when he was 18, he lost his leg to that cancer rather than risk his life. Within three weeks after amputation, outfitted with an artificial leg, he was walking and in 1980, only three years after amputation, he started off on a run across Canada to raise awareness and money for cancer research. Terry raised $1.7 million by the time he was forced to abandon his hope to run across the country, after completing 143 days and 5,373 kilometres (3,339 mi), because the cancer had returned. Many offered to run in his place, but Terry wanted to complete the run himself. However, sadly this was not to be the case. He died at age 22, less than a year after setting out on his marathon. After that the Canadian public set out to continue his Marathon of Hope (as it was dubbed) and every year millions of people participate in Terry Fox runs across the country, raising so far over $650 million, in his honor. Have you ever participated in a Terry Fox run?
Have in the past (when I was in school)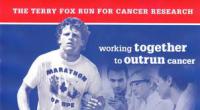 2. Terry Fox did more than just raise awareness for cancer research. His feat helped redefine Canadian views of disability and the inclusion of the disabled in society. He challenged society to focus on ability rather than disability. Even if you were not familiar with Terry Fox before this survey, do you think he is the true definition of what a hero should be?
100% -- he is a true hero in every sense of the word
Sounds like he fits the definition
An inspiration, sure, but not sure about a hero
Don't find him inspiring or a hero really
3. Every year in September, across Canada, schools hold Terry Fox runs, with everyone getting out to participate, and raising money for the Terry Fox Cancer Foundation. This year, many Ontario elementary schools are postponing their Terry Fox charity runs because of a work-to-rule campaign that stops teachers from organizing fundraising events or collecting money. And a new union ban against teachers running extras on what it calls Wynne Wednesdays could further disrupt the runs, which have been slated in many schools for Wednesday Sept. 30 Do you think in this case the runs should go on despite what is happening in the schools?
Yes, this goes above and beyond school politics
No, any extra-curricular activity should be stopped, including this run
Not sure--not familiar enough with what's going on
Maybe a compromise--have parents help out?
09/29/2015
Seasons
1564
18
By: Harriet56
Earn Rewards Live
Comments