Results for - With Halloween Approaching Here Comes the Candy Corn
1,788 voters participated in this survey

1. Do you like candy corn?
2. If you do enjoy eating candy corn, do you eat it year round or is it more of a yearly special treat you look forward to?
I like it only around Halloween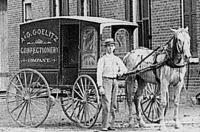 3. Which of the following do you know about candy corn?
The Goelitz Confectionary Company, known now as Jelly Belly, began making candy corn in 1898
The recipe for candy corn has not changed in over 100 years!
Candy corn used to be called chicken feed
In 1950, a block-long fire destroyed 2,000 pounds of candy corn stock allowing other companies like Brach's to take advantage and produce their own version
In 1950, candy corn was 25 cents a pound. Today, a one pound bag costs $8.99
Nine billion pieces of candy corn are produced each year. Roughly, 35 million pounds!
In 1951, Goelitz advertised, "the candy all children love to nibble on all year long."
It takes 4 to 5 days to make a piece of candy corn
Candy corn now comes in Oreo, martini, bagel, and other flavors
October 30 is National Candy Corn Day
10/30/2015
Seasons
1788
26
By: sarahzahm
Comments