Results for - Inappropriate Halloween Costumes?
2,423 voters participated in this survey
A florida dad allowed his son to dress up as Cruella de Vil costume this Halloween. However, once the photo was posted to social media some thought that the costume was inappropriate to wear. In response the father stated, "he's nine. More kids should be allowed to explore their interests without fear," he said. We couldn't have put it better ourselves.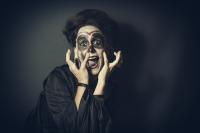 1. Are you familiar with this news story?
2. Do you think Halloween allows children to express themselves creatively?
3. Do you think children are wearing more inappropriate Halloween costumes today?
4. Do you think parents should control what their children wear on Halloween?
11/09/2015
Seasons
2423
34
By: Tellwut
Earn Rewards Live
Comments