Results for - UFO Clouds Captivate Onlookers
1,731 voters participated in this survey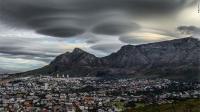 1. UFO-like lenticular clouds stunned residents when they formed over Cape Town, South Africa. Have you seen this image before reading this survey?
2. Here is the video. Is this the first time you are seeing this video?
3. Do you think the clouds look like UFO's?
4. Have you ever seen an actual UFO?
11/20/2015
Seasons
1731
24
By: msrcms
Comments