Results for - Yogi Berra "Yogisms"
1,603 voters participated in this survey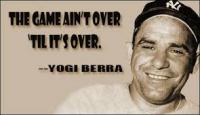 1. Yogi Berra, some say the greatest baseball player ever, passed away at the age of 90 on Sept., 22, 2015. Here are 8 Yogisms. Check off the ones you like, agree with, or get you thinking.
Why buy good luggage? You only use it when you travel.
When you come to a fork in the road, take it.
If you don't know where you're going, you'll end up somewhere else.
You can observe a lot by just watching.
It ain't over til it's over.
The future ain't what it used to be.
Nobody goes there anymore; it's too crowded.
Think! How the hell are you going to think and hit at the same time?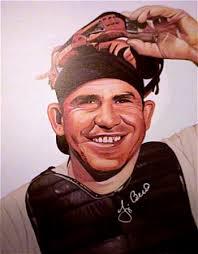 2. Check off what is true for you.
I am a fan of MLB (Major League Baseball)
I am a fan of the team that Yogi played for
I was a retroactive fan of Yogi Berra
I know which team Yogi played for
09/27/2015
Sports
1603
13
By: ptajuggalette
Comments