Results for - I would like to thank my wife...and my girlfriend!
1,538 voters participated in this survey
1. Do you watch MMA fighting?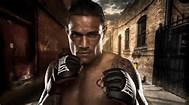 2. Are you a fan of MMA fighter Benny Madrid?
3. Benny Madrid took a big victory at the World Series of Fighting, and he was proud of his accomplishment. In his post-fight interview, he wanted to send out thanks to those who have stood behind him so he ended up thanking his wife…and his girlfriend. "Thank you everyone who believed in me…my wife and girlfriend." Did that statement make you do a double take and go, "huh?"
4. Madrid took to the Facebook page of Sports Illustrated to let the world know exactly what he meant by his comment after the fight. "Lol it's my girlfriend/fiancé that's going to be my wife.. Was caught up in the moment." Have you ever had an oops moment while talking about or introducing your significant other?
09/28/2015
Sports
1538
10
By: sarahzahm
Earn Rewards Live
Comments