Results for - Do you use Stigma app?
1,999 voters participated in this survey
FREE FEATURES: PenPals: Stigma's list of suggested PenPals makes it easy to find someone who is caring, empathetic and understanding of who you are. Once you've found the perfect penpal, you can exchange daily messages and journal entries. (Limited to three penpals to encourage fewer but stronger friendships) Word Clouds: A visual display of the most prominent words in your journal. We create word clouds of all your entries for any month or of the entries that contain a particular word of your choice such as a friend, a place, or activity. Quick Journal Entries: Each entry is limited to 200 characters, journaling what you are feeling, thinking, doing, where or who you are with in that moment. It takes less than 15 seconds. Average Mood Calendar: Your average mood is visualized on a graph to give you a glimpse into your well-being. You can see how your mood adjusts overtime, filtered by recent days, weeks, or months. Reminders: Set up to four daily reminders at the time at your convenience to easily keep the habit of journaling. If you journal two hours prior to a reminder we cancel that reminder for the day.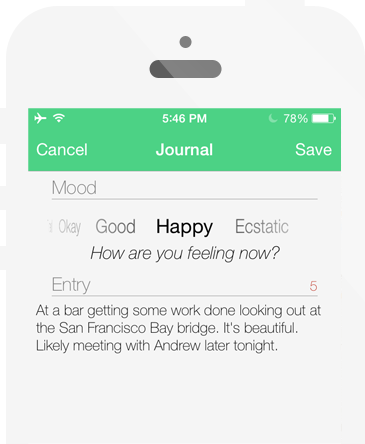 1. Do you use Stigma app?
02/11/2017
Technology
1999
24
By: RRR
Comments