Results for - The "Truth" According To Donald Trump
2,370 voters participated in this survey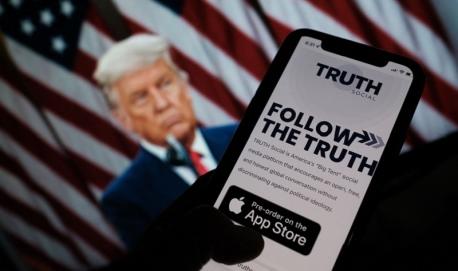 1. Former president Donald Trump announced on October 21 that he will be launching his own social media platform, TRUTH Social. Trump's new social network is set to launch a beta version in November, which will be available to invited guests only. Its national rollout is expected in early 2022. Trump signaled his aspirations to create a rival social media platform after he was kicked off several social media platforms, including Twitter, Facebook and YouTube, which banned or suspended Trump for violating their policies following the Jan. 6 attack on the Capitol. Do you find the name of his proposed social media platform...
2. Trump says, in his announcement, "I created TRUTH Social to stand up to the tyranny of Big Tech. We live in a world where the Taliban has a huge presence on Twitter, yet your favorite American President has been silenced." Trump said that the company's mission is to create "a rival to the liberal media consortium and fight back against the Big Tech companies." He also added that his site will "give a voice to all," or at least to those who don't plan to criticize it. That's according to TRUTH Social's terms of service, which says users may not "disparage, tarnish, or otherwise harm, in our opinion, us and/or the Site." It appears that everyone is welcome to voice their opinions, as long as those opinions are in line with his. Do you think he has basically created a social media platform that will just be his voice, and no one else's?
3. So, Trump's version of the TRUTH may not be everyone's version of the truth. Politicians do tend to exaggerate, inflate or even lie, and Trump has certainly done well in that area. Here are a few recent TRUTHS he has claimed. Which of these do you remember him saying?
Trump began his presidency by lying about the weather. It rained during Trump's inaugural address. Then, at a celebratory ball later that day, Trump told the crowd that the rain "just never came" until he finished talking and went inside, at which point "it poured."
He said that the Covid-19 virus was equivalent to the flu; the lie that the situation was "totally under control"; the lie that the virus was "disappearing" -- suggested to Americans that they didn't have to change much about their usual behavior. After one year, more than 386,000 Americans had died from the virus.
At a White House event in 2019, Trump grossly distorted a 2013 quote from Rep. Ilhan Omar to try to get his supporters to believe that the Minnesota Democrat had expressed support for the terrorist group al Qaeda.
When he told reporters on Air Force One in 2018 that he did not know about a $130,000 payment to porn performer Stormy Daniels and that he did not know where his then-attorney Michael Cohen got the money for the payment -- Trump knew, because he had personally reimbursed Cohen
Trump's big health care plan was eternally coming in "two weeks." So were a bunch of other plans and announcements.
Trump's long White House campaign against verifiable reality has culminated with his lie that he is the true winner of the 2020 presidential election he clearly, certifiably and fairly lost.
10/26/2021
Technology
2370
207
By: Harriet56
Comments