Results for - Defrosting Freezers
1,579 voters participated in this survey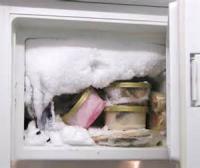 1. Do you have a freezer that has to be manually defrosted?
2. When do you defrost your freezer?
At set intervals, for example every 6 weeks.
When the ice is a certain thickness.
Whenever I think of it/No particular time.
When the ice is so thick I can barely use the freezer.
3. Do you use any of the following heat sources to make the ice melt faster?
4. The owner's manual usually warns against chipping the ice with a sharp object to avoid damaging the freezer's coils. Do you sometimes ignore these warning's and chip away at the ice with a knife, screwdriver, ice pick or other sharp object?
06/01/2015
Technology
1579
21
By: tg85
Comments