Results for - Coming To A Billboard Near You...Your Own Racist Comments For All To See
1,824 voters participated in this survey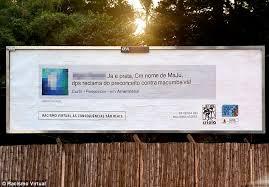 1. In Brazil, a new campaign has come up with a way of curbing racist comments posted on Facebook , by taking these "anonymous" racist slurs and plastering them on billboards near the offender's home. Are you aware of this campaign?
2. The campaign, "Virtual racism, real consequences," is using the location tag from Facebook posts to find where the offenders live. The group is then buying billboard space in their neighborhoods, but blurring out the names and photos of the commenters. The project is republishing those comments as a reminder that virtual bullying can have an impact in the real world. Do you see this kind of campaign having an impact on how people think about what they post on social media sites?
I think this is a brilliant idea, and should work quite well
I think this will have some impact
This will have little or no impact
This campaign is a waste of time and effort
Good idea, but I feel names and faces should be also published--expose these racists
3. Have you ever posted a racist comment, or a comment that you know is hurtful towards some other group/person, on a social media site?
Yes, but only once or twice
No, I think about what I post
No, I do not post things like that ever
Do not use social media sites/post on sites
12/10/2015
Technology
1824
37
By: Harriet56
Earn Rewards Live
Comments