Results for - When Life Gives You Ice, Make Flying Pants
2,290 voters participated in this survey
1. The deep freeze gripping the Prairies has set new records in Alberta and Saskatchewan with lows into the -40s in several communities. And while they are no strangers to sub-zero (many times over) temperatures, even they say it's too cold. So when life throws frigid temperatures and wind chills at you, why not have some fun with it! Some have discovered If you leave wet pants and shirts outside in this weather, they'll become aerodynamic -- as evidenced by the video above. They're calling it the Great Canadian Frozen Jeans Frisbee Challenge, and it's gained international attention, even from Jimmy Fallon. Have you ever tried this?
Not cold enough where I live for it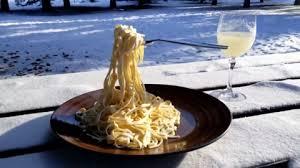 2. Culinary fans will try almost anything, but those up north have come up with a new twist on an old favourite -- frozen spaghetti. The recipe is easy: take spaghetti outside, and voila -- crunchy goodness! Have you ever accidentally frozen your food (such as leaving it in the car on a frigid night, or putting something by mistake in the freezer that should not go there)?
Actually it happens all the time to me
Not cold enough for this to happen
3. Every year, during a cold spell, someone decides to post pictures on Instagram, of the boiling water challenge. The challenge, which appears to turn boiling hot water into "snow" or steam in freezing temperatures, sends some to hospital with severe burns. While the challenge seems straightforward or safe to those doing it, some are getting splashed back with hot, boiling water. And this year, no doubt, will not be any different. Have you ever foolishly participated in this hot water challenge?
Not cold enough where I live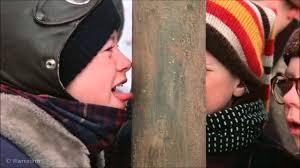 4. If you live in an area that gets extreme cold weather, have you ever done any of the following?
Eaten snow (not really that safe, according to Health experts)
Put your tongue on a metal post or fence (obviously not a smart move)
Had your facial hair, eye brows or eye lashes freeze together (not so much a thing you "do" as a thing that happens to you)
Participated in a Polar Bear Dip (yes, going into the unfrozen frigid water is a thing)
Shot hot water out of a water gun to see it freeze (again, refer to question #3 -- not a good idea)
None of the above, but I've done some other decidedly crazy cold weather stunts
Not that cold where I live
01/26/2020
Trivia
2290
35
By: Harriet56
Comments