Results for - Sunday Clears Away The Rust Of The Whole Week
2,365 voters participated in this survey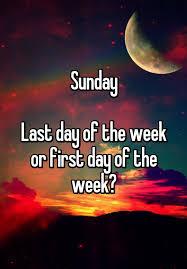 1. Originally the first day of the week rather than the last (in a calendar derived from Hellenistic astrology), Sunday is named after the Sun. Unlike many of the other six days in a week, almost every language around has derived their word for Sunday from the meaning "Sun's Day" or "Day of Sun". Depending on where you are from, or what calendar you look at, Sunday is either the last day of the week or the first day of the week. Do you think of Sunday as the first day of the week or the last day of the week?
Have not really thought about it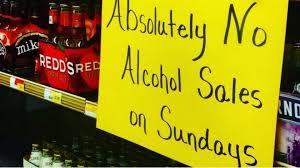 2. Blue laws, also known as Sunday laws, were laws designed to restrict or ban some or all Sunday activities for religious or secular reasons, particularly to promote the observance of a day of worship or rest. Blue laws may also restrict shopping or ban sale of certain items on specific days, most often on Sundays in the western world. Blue laws are still enforced in parts of the United States and Canada as well as some European countries, particularly in Austria, Germany, Switzerland, and Norway, keeping some stores closed on Sundays. Are you in favour of having stores closed on Sunday?
Yes, for religious reasons
Yes, but for other reasons
3. How many of these Sunday fun facts did you know?
Cold Sunday is the name given to Sunday the 17th of January in 1982, when incredibly cold air swept into the U.S. from Canada and plunged temperatures across most of the States far below their existing all-time lows.
Gloomy Sunday is the name of a popular song composed by Hungarian pianist and composer Rezs? Seress and published in 1933. Also known as 'The Hungarian Suicide Song', this song has been the center of many urban myths linking it to the suicide of several people who had listened to the song.
Many countries, particularly in Europe such as Sweden, France, Germany and Belgium, but also in other countries such as Peru, hold their national and local elections on a Sunday, either by law or by tradition
TV show Antiques Roadshow has always been shown on a Sunday since 1979.
Sunday has more songs written about it than any other day of the week, with Saturday coming in second.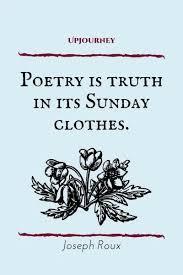 4. Which of these Sunday quotes do you like?
"Sunday is the golden clasp that binds together the volume of the week." -- Henry Wadsworth Longfellow
"Sitting with her on Sunday evening — a wet Sunday evening — the very time of all others when if a friend is at hand the heart must be opened, and every thing told…" -- Jane Austin
"It was the kind of Sunday to make one ache for Monday morning." -- Joan Didion
"Happiness is a hot bath on a Sunday afternoon." -- A.D. Posey
"Poetry is truth in its Sunday clothes." -- Philibert Joseph Roux
"Sunday clears away the rust of the whole week." -- Joseph Addison
"Do not let Sunday be taken from you. If your soul has no Sunday, it becomes an orphan." -- Albert Schweitzer
"But it's Sunday, Mr. Bell. Clocks are slow on Sundays." – Truman Capote
11/23/2020
Trivia
2365
33
By: Harriet56
Comments