Results for - Anagram Fun
2,386 voters participated in this survey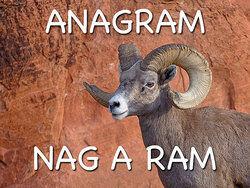 1. An anagram is a word or phrase that's formed by rearranging the letters of another word or phrase. For example, the letters that make up "A decimal point" can be turned into the anagram "I'm a dot in place." Have you heard of any of these as being anagrams?
Parliament -- partial men
Snooze alarms -- Alas no more Zs
The Morse code -- here come dots
Astronomer -- moon starer
Eleven plus two -- twelve plus one
2. Famous anagrams have crept up in literature and movies time and time again. Did you know of any of these famous literature and movie anagrams?
William Shakespeare's "Hamlet" is actually an anagram of "Amleth," a Danish prince.
In Jonathan Swift's Gulliver's Travels, Gulliver visits Tribnia, also known as Langden, anagrams of Britain and England, respectively.
J.K. Rowling uses the anagram "I am Lord Voldemort" as an anagram for the Dark Lord's prior name, Tom Marvolo Riddle.
In Dan Brown's The Da Vinci Code, clues left by a murdered museum curator are hidden in anagrams: O, Draconian devil = Leonardo da Vinci Oh, lame saint = The Mona Lisa So dark the con of man = Madonna of the Rocks
Anagrams are everywhere in Lemony Snicket's A Series of Unfortunate Events. Most often it's the author's name, such as Loney M. Setnick, and Count Olaf's name, such as Al Funcoot.
The movie October Sky is based on the book Rocket Boys by Homer Hickam. The titles are anagrams of one another.
In the movie and book The Shining by Stephen King, the character Danny screams REDRUM and writes the word on the mirror using lipstick. REDRUM = Murder.
In the movie The Silence of the Lambs, the character Hannibal Lecter loved using anagrams as clues. One example of this was when he gave detectives the name Louis Friend. Louis Friend = iron sulfide. Iron sulfide is known as fool's gold.
3. Here's a bit more anagram fun. These famous names have been turned into rather suitable anagrams. Did you see any of these before this survey?
Jim Morrison = Mr. Mojo Risin'
George Bush = He bugs Gore
Clint Eastwood = Old West action
Ronald Reagan = A darn long era
Madonna Louise Ciccone = One cool dance musician
Bart (as in Bart Simpson) = Brat
10/27/2021
Trivia
2386
27
By: Harriet56
Comments