Results for - Supersize Me!
2,075 voters participated in this survey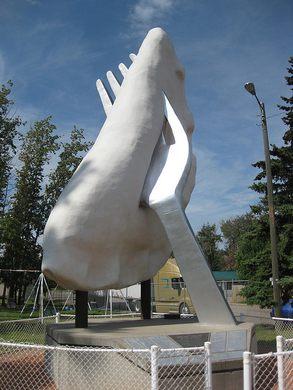 1. If your idea of a big meal is, well, a BIG meal, then you just might want to add these giant food attractions to your travel bucket list. Alberta, Canada is home to the biggest perogy in the world. Perched on a large fork, the World's Largest Perogy in Glendon, Alberta stands 27 feet tall and weighs approximately 6,000 pounds. That's a HEAVY perogy! Sour cream not included... It was unveiled in 1993, but the fork was added to the sculpture so that people would have some idea as to what it was supposed to be. The first design, without the fork, left passersby baffled. Next to the Giant Perogy, which was constructed using steel and fiberglass, is Perogy Cafe. The only restaurant in this small town, Perogy Cafe serves Ukrainian and Chinese perogies. Related to the dumpling, the perogy is a staple of eastern European cuisine. Have you ever seen this Giant Perogy, or would you like to see it?
I have no desire to see it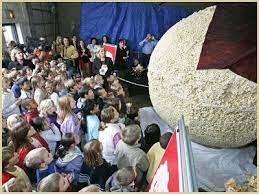 2. Sac City Museum Village in Iowa shows its love for popcorn in the world's largest Popcorn Ball, as this large puffy treat is in its fourth incarnation over its 27 year existence. Originating in 1995, as a way to celebrate Iowa's Sac County popcorn industry, the first ball weighed 2,225 pounds. The 2004 version got moldy and became animal feed. In 2013, a rival popcorn ball at the Indiana State Fair surpassed the 2009 winner, a 5,000 pound-version of the Iowan star, at 6,510 pounds. In June 2016, popcorn ball number four resulted from a recipe involving 2,300 pounds of popcorn, 2,500 pounds of dry syrup mix and 4,900 pounds of sugar with just enough lecithin additive to make it stick. Have you ever gone to see this attraction?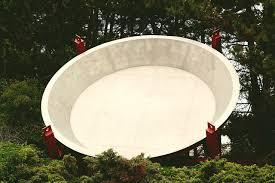 3. Traverse City and Charlevoix, two towns fifty miles apart in Michigan both vied for the title of World's largest Cherry Pie pans. First, Charlevoix set up a world record for this type of pie in May 1976, when a man named Dave Phillips convinced city officials to make such a grand pie in timing with their annual cherry festival. Their major public event led to the baking of a dessert weighing a grand total of 17,420 pounds with a giant tin built for the occasion. The record stood until July 1987 when Traverse City decided to make a recipe for a cherry pie to top the Charlevoix record, with a similar public baking event of their own. This pie and its respective pan beat Charlevoix's pie by creating a concoction that exceeded 28,000 pounds. Both Michigan pies would go to eventually lose the title to another victor – the city of Oliver, British Columbia, when THEY created a 37,713-pound cherry pie in 1990. Back in Michigan, the pies may be gone but the tins are still on display. Have you seen any of these three giant cherry pie pans?
I have seen the Michigan one/ones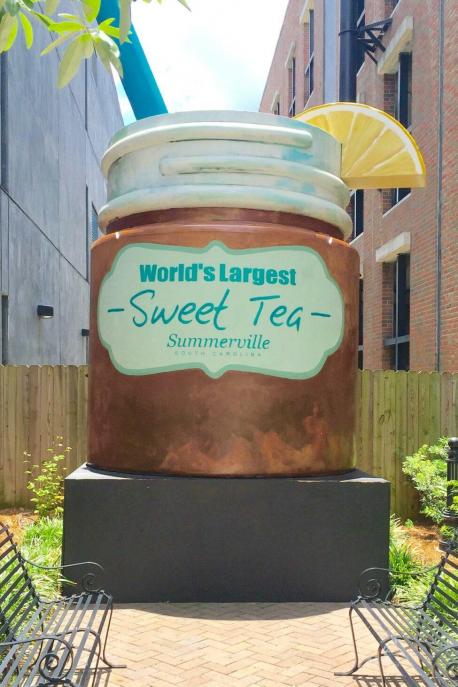 4. Summerville, South Carolina is proud of having the World's Largest Sweet Tea in "Mason," a beloved mason jar standing over 15-feet tall. In June 2016, Mason got in the Guinness Book of World Records, achieving the record by holding up to 2,524 gallons of this sugary beverage. Of course, the tea itself had its part in making this record possible; the 210-pound amount came from Charleston Tea Plantation, which is based in South Carolina's Lowcountry. Then, 1,700 pounds of sugar was provided by Dixie Crystals. Have you ever seen this attraction?
05/21/2022
Trivia
2075
26
By: Harriet56
Earn Rewards Live
Comments