Results for - St. Patrick's Day Q & A
2,388 voters participated in this survey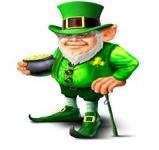 1. Saint Patrick wasn't really Irish at all. True or false?
2. W. B. Yeats was an Irish poet who loved to write about:
3. A popular Irish dish of shredded cabbage, minced onions, mashed potatoes and melted butter is known as:
4. Kissing the Blarney Stone is supposed to do what?
Cause moist lips from the dew on the rock
5. The first St. Patrick's Day parade/celebration was in which city?
6. 2. The answers are: 1. True (His father was Italian, his mom was a Scot. He was born in Scotland), 2. Fairies and Ghosts, 3. Colcannon, 4. It removes shyness and you are suddenly given the "gift of gab", 5. Boston (in 1737). How many did you get right?
7. What will you do to celebrate St. Patrick's Day?
Eat corned beef and cabbage
Nothing, I don't celebrate St. Patrick's Day
03/18/2014
Trivia
2388
25
By: Bboopy13
Earn Rewards Live
Comments