Results for - Historical words
1,478 voters participated in this survey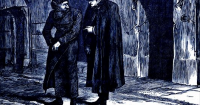 1. Which of the words and their meanings do you know?
Dickensian: Besides relating to a Dicken's character, it can also meant characters that are larger than life or portrayed sentimentally
Hedonism: Chief aim of life is pleasure, the sensual kind. However, self-control is also important.
Epicurean: Also means life's passions in moderation else you will become a slave to it
Stoic: Stoicism was based on the concepts of meditation, mindfulness and self-examination, and offered practitioners theoretical precepts and inspirational texts to ponder.
Cynic: Original cynics strived for virtue, and felt the only way to achieve it was through self-control, asceticism and poverty.
Kafkaesque: When you enter a surreal world in which all your control patterns, all your plans
Karma: Because karma plays out over a long time, over lifetimes. It's not something that is summoned up in the moment
Luddite: Were weavers who fought back when they were replaced with looms
Nimrod: Nimrod was the great-grandson of Noah & was a mighty warrior
Orwellian: Interestingly, both people on the left and the right have used the phrase "Orwellian" to describe policies they disagree with
Pharisee: In the Book of Luke, Pharisee were angry with Jesus for healing a man with a paralyzed hand on the Sabbath.
Knew all of the true meanings
09/07/2015
Trivia
1478
16
By: ptajuggalette
Comments