Results for - Wow, That's A Mouthful! Longest Town Name In The World
1,502 voters participated in this survey
1. Last Wednesday, British weatherman Liam Dutton of Channel 4 perfectly pronounced the longest town name in Europe, thanks to studying Welsh as a child. He correctly pronounced the village of Llanfairpwllgwyngyllgogerychwyrndrobwllllantysiliogogogoch which was the warmest place in Wales Tuesday with temperatures reaching 21C. And that wasn't even the longest town name in the world--that honor goes to New Zealand's Taumatawhakatangihangakoauauotamateaturipukakapikimaungahoronukupokaiwhenuakitanatahu. Do you think you could pronounce either of these names correctly?
Maybe with lots of practice and if I heard them over and over again
I wouldn't even be able to sound it out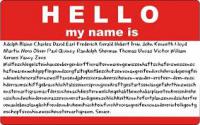 2. The longest documented name ever belongs to a German-born Philadelphia (1904 - 1985) whose name was legally changed by him, in 1975, to "Adolph Blaine Charles David Earl Frederick Gerald Hubert Irvim John Kenneth Loyd Martin Nero Oliver Paul Quincy Randolph Sherman Thomas Uncas Victor Willian Xerxes Yancy Zeus Wolfeschlegelsteinhausenbergerdorffvoralternwarengewissenhaftschafers wesenchafewarenwholgepflegeundsorgfaltigkeitbeschutzenvonangereifen duchihrraubgiriigfeindewelchevorralternzwolftausendjahresvorandieer scheinenbanderersteerdeemmeshedrraumschiffgebrauchlichtalsseinu rsprungvonkraftgestartseinlangefahrthinzwischensternartigraumaufde rsuchenachdiesternwelshegehabtbewohnbarplanetenkreisedrehensichund wohinderneurassevanverstandigmenshlichkeittkonntevortpflanzenundsiche rfreunanlebenslamdlichfreudeundruhemitnichteinfurchtvorangreifenvon andererintlligentgeschopfsvonhinzwischensternartigraum", but thankfully he went by the shortened name of Hubert Blaine Wolfeschlegelsteinhausenbergerdorff. His legal first name was composed of 26 words, each beginning with one letter of the English alphabet. What do you think about this?
He has one mean sense of humor and the absurd
Wow, even his shortened name is a mouthful!
Why? Why would he do something like this?
3. Pablo Picasso was actually born with a very long name. His full baptismal name was registered as "Pablo Diego José Francisco de Paula Juan Nepomuceno María de los Remedios Cipriano de la Santísima Trinidad Ruiz y Picasso", and his parents gave him this long name to honor various saints and relatives. Added to these were the surnames Ruiz and Picasso, for his father and mother, as stated in Spanish law. What do you think of this?
Why would parents do something like this to a child?
It's a good thing he's famous for more than just his long name
Great that he chose to use only his first and last name--and it sounds like an artist
Given some of the paintings of his family, it's all clear now!!
I think it's a great name!
4. There are twenty-six locations in the world that have a documented single letter name, There are a total of seven villages in Denmark, Sweden, and Norway with the name Å, which means river in Scandinavian languages. Have you ever been to a town or village that has only a single letter as it's name?
09/13/2015
Trivia
1502
31
By: Harriet56
Comments