Results for - Origami Lotus Blossoms
1,767 voters participated in this survey
1. Have you ever made origami lotus flowers like these?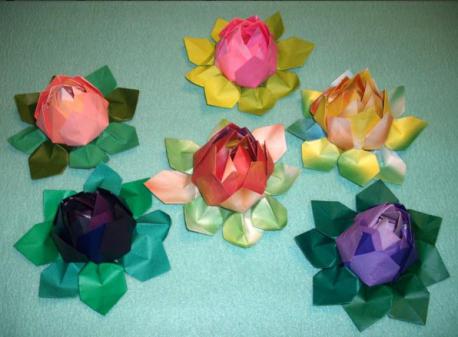 2. They are quite easy to make and not very time-consuming. They require 4 sheets of paper for the petals and 2 sheets for the leaves, and all sheets of paper are cut in half. Do you like the look of these paper flowers?
3. Would you use these flowers for decorating (such as hanging on walls, or putting on shelves) or giving as gifts (they also can be taped onto a wrapped gift)?
4. Have you ever tried making kirigami? It is similar to origami, but it requires a lot of cuttings in the paper as well as folding.
5. If you work on origami, what level would you consider yourself at in your ability?
Beginner (basic paper-folding with a single sheet of paper)
Intermediate (slightly more advanced, using more than one sheet of paper and more advanced folding techniques)
Expert (able to make more detailed origami that requires tools, many folding steps and sheets of paper, paper cutting, etc.)
Unsure/Somewhere in-between
01/05/2016
Trivia
1767
24
By: GossamerDoll
Earn Rewards Live
Comments