Results for - Hey you cool cats, answer some purrrfectly straightforward questions. Take the Cat survey
736 voters participated in this survey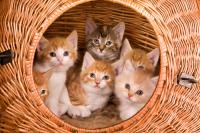 1. How many cats live with you?
2. How do you feel about cats being de-clawed?
I like my furniture scratch free, so I'm OK with it
I don't have either a cat nor an opinion on this issue
3. What kind of food does your cat eat?
Mice, Voles and other small rodents, the odd bird
I don't keep a cat, therefore I have no need to feed it
4. Does your cat own any of the following?
A stick with a feather on it
I don't have a cat, or any of these things, honest
5. Does your cat have a catnip problem?
6. Should cats be allowed to roam free outdoors?
Yes, that's the natural order of things, animals were not meant to be kept indoors
No, there's enough cats as it is, plus the howling at night keeps me awake
I have no opinion on this issue
07/18/2012
Uncategorized
736
21
By: MasterMind
Comments