How to Use Survey Branching/Skip Logic
Branching (also known as skip logic) is a survey feature that allows survey creators to skip over or redirect voters to different questions based on the answers participants select in particular questions. Branching can be applied only to Multiple Question Surveys and is a great tool to learn in-depth details about your sample groups' attitudes and feedback. However, surveys that include branching need to be precisely crafted and follow particular question logic so that they are more helpful rather than confusing for the participants. Branching provides you with the ability to slice and dice your survey participants without having to create multiple surveys for the variety of people who answer your survey. In this
Tips and Tricks Blog
, Tellwut will guide you step by step to creating branched questions in your surveys and highlight some cases to apply them. As I mentioned above, branching can be used only in
Multiple Question Surveys
and can be applied to Yes/No type of questions, single answer, and
multiple answers
questions. Branching cannot be started when using Ranking, Matrix or Open-Answer questions.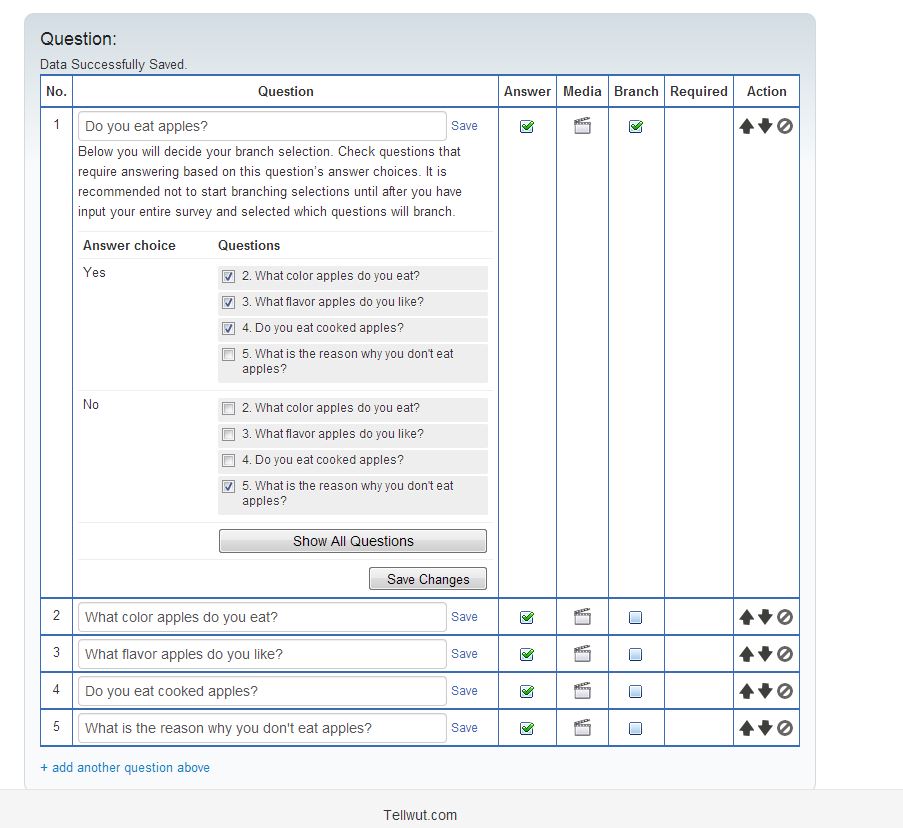 When using the Tellwut survey software, the branching feature is located in the 5
th
column in the survey table when creating a multi-question survey (see the image above for reference). When you check that branch box, you activate branching. To use this
feature
you must have at least one more question after your branching questions. After you have checked the "Branch Box", an additional menu opens up, showing all possible survey questions. By selecting questions in this menu, you decide the path that the survey respondents will take when participating in the survey. Example: Do you eat apples? a) Yes – If Yes, proceed to question 2, 3, 4 b) No – If No, proceed to question 5   It is important to ensure that branching directs respondents forward in the survey and the questions you have selected are relevant to what has been asked in the previous branched question. Note: If a question is a part of a branch, that question cannot be added to another branch and cannot initiate its own branch. What types of surveys can you use branching in? - You can use branching to separate survey participants who are your customers and are not your customers and guide them through different questions to ascertain why they are your customers, their satisfaction level, etc. or why they are not your customers, if they have thought about becoming your customers, have they tried your free trial, etc. This is a great way to learn more about the participants who would otherwise respond with N/A to your questions. - You can disqualify voters who are not your target participant in research and send them to the end page of your survey. - Branching is great to use when you send out a customer satisfaction survey that is based on specific sales reps. You can direct your customers with questions about their entire customer experience and then branch to questions that are specific to their experience with their sales rep. - Send out an event survey to all of the people to whom you sent out invitations. You can apply branching when you ask them if they have or have not attended your event and reroute them to questions that are relevant to both answers. This way you can survey your entire event base and narrow down your results by who attended or not within the same survey. - Branching is perfect for crafting job satisfaction surveys you want to send out to employees in different departments. You can provide employees with the option of selecting the department they work for and branch their response to questions that are relevant to their department. Note: When using branching, it may beneficial to map out your survey in advance to ensure that there is a logical sequence and then insert it into the
Tellwut survey software
. Tellwut Survey Software allows you to review your survey prior to sending it out. However, it is important to note that the preview shows all of your questions and does not indicate your branching questions.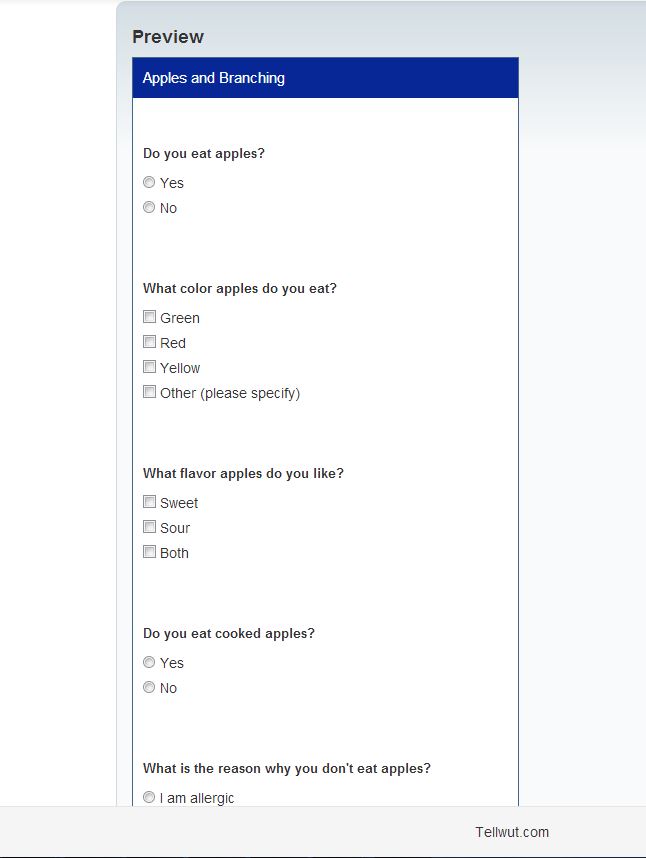 You can save your survey and edit at any time before publishing. To ensure valuable results, Tellwut does not allow users to edit surveys once they have published them and are live. Note: If you need to unpublish your survey and/or edit it, contact us at
support@tellwut.com
Once your survey has been publishes, it will look like in the image below.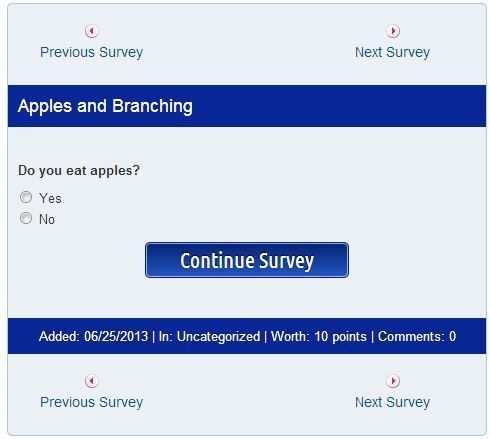 If our example, if the voter responds with "Yes", he/she will be proceeded to questions 2, 3, and 4 (see the image below).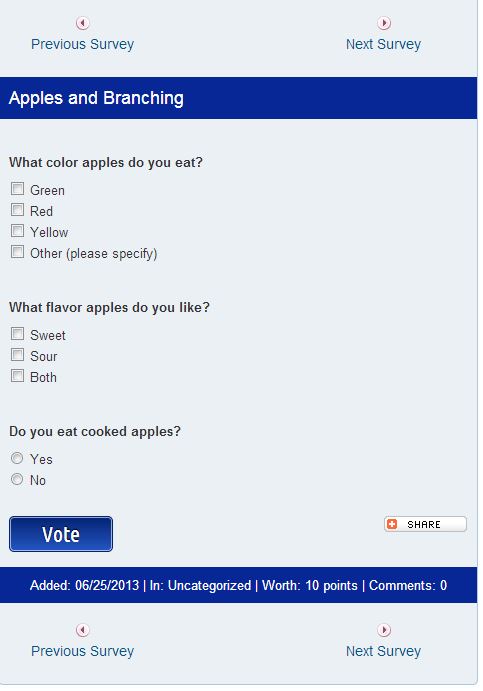 If their answer is "No", he/she will be preceded with question 5 (see the image below).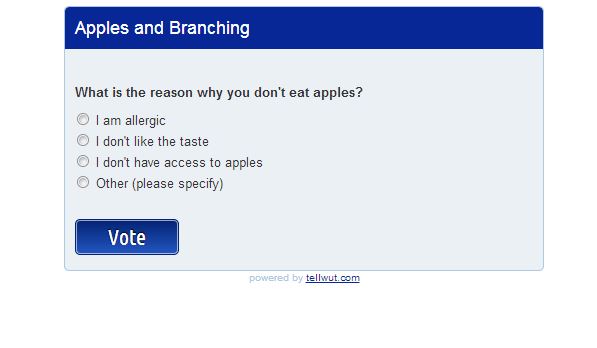 Branching can be a very helpful tool but it needs to be used wisely. So take a pen, draw the survey branching scheme, and enter your survey
here
.   To join our business e-newsletter list and get new business ideas, special discounts, consumer insights, and much more, click
here.
Happy Surveying!