Results for - What kind of a gambler are you?
55,157 voters participated in this survey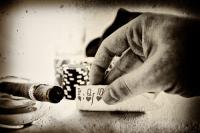 1. Which would you choose?
50% chance of getting $100 now
$100 guaranteed in 3 months
2. Do you find daily life..
3. Do you have an active appetite?
4. Have you ever won a large wager?
5. Would you spend 5 hours in a casino if you knew you would come out with $200?
07/03/2018
Money
55157
177
By: jromero
Comments