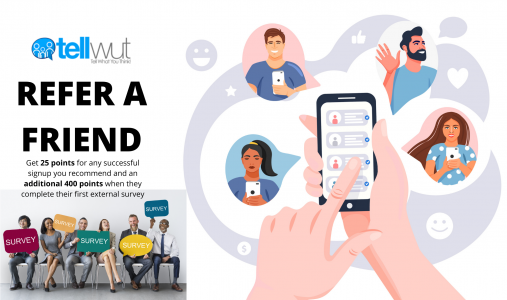 Results for - Answer surveys with friends
3,979 voters participated in this survey
Have you ever had dinner conversations that had everyone debate what the right way to open a banana is? Or maybe what new movie is out there? Or if New Year resolutions are "a thing"? On Tellwut you can ask these questions and many more, getting opinions of thousands of people from US and Canada. Invite your friends / family / coworkers to join the party!
1. Have you ever invited family/friends/acquaintances to Tellwut?
2. Have you seen our new blog post about the changes to the referral program? It includes information about how to get points for inviting people to Tellwut.
The link is here
No, but thanks for sharing!
3. We're changing our referral program so you can benefit more! For every person that signs up at your recommendation, you get 25 points, but now it gets better: you will also get an additional 400 points when they complete their first external survey! Do you know how to invite friends to get these rewards?
I don't plan to invite anyone.
4. Are you a blogger, youtuber, influencer or own your own website? We've updated our T&C so that in this new form of the referral system you can use it as an affiliate program.
Yes, I am and plan to monetize.
Yes, I am, but I'm not going to advertise.
No, I'm not a blogger, youtuber, influencer or own my own website.
03/31/2022
News
3979
28
By: Tellwut
Earn Rewards Live
Comments