Results for - Transgender woman transferred from state women's prison after impregnating 2 female inmates
2,307 voters participated in this survey
A transgender inmate has been moved to a new facility after impregnating two women while incarcerated at a New Jersey women's prison, according to a local report. (source: https://tinyurl.com/2s3ff79e)
1. Demi Minor, who is serving a 30-year sentence for manslaughter, was transferred from Edna Mahan Correctional Facility for Women to a prison for young adults last month after two women in the facility became pregnant from "consensual sexual relationships with another incarcerated person," according to the DOC's external affairs executive director Dan Sperrazza. Do you suspect that someone who claims to be a transgender woman, but impregnates other women is just taking advantage of the "call yourself whatever you want and everyone has to abide by whatever you think you are" mindset (& policies)?

2. Minor was one of at least 27 prisoners who identify as transgender housed at the women only prison before being transferred to the Garden State Youth Correctional Facility — and she's not happy at all about the "psychological damage" caused by the move. Do you agree with the decision to move Minor to another facility where she is the only female?
3. On the Justice 4 Demi website, Demi wrote about her terrible experience of "being forced to live in a male prison" where she "was called he and him well over 30 times." Do you think prisoners, at least, should expect to face at least some ridicule and scorn (right or wrong) as part of their punishment?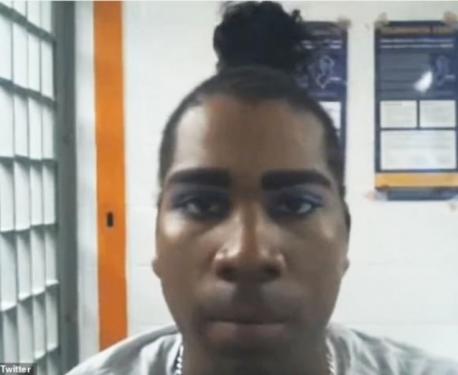 4. "This is the hell that NJDOC wants to put me through, this is my punishment for what occurs over 2 months ago, they have violated my right to be safe and free from s*xual harassment," Demi complained. "While living here at GYSC, I have found my self under attack by young inmates who are immature and just plain ignorant towards a person like me. On Saturday I was in medication line when a inmate cut in front of me, and said "I am not standing behind no f*g" the inmate than spit directly in my direction, I came back and washed my clothing's knowing deep down, that I can not and will not live like this!! I don't think DOC realizes the psychological damage that has been done from moving me out of a womens prison to a male facility, its harsh and, I don't know what its like to live as a man, and In refuse to ever revert back to such habits or behavior." (editing necessary for Tellwut allowances) Does this commentary bring a tear to your eye?
5. Demi said she was placed on suicide watch "due to the fact that [she] had hung [herself] in the van" but "was placed in a dark cell within Detention housing, as inmates who are on watch are placed in the detention unit and not the infirmary!" Do you agree that it is reasonable to place a prisoner on suicide watch who tries to hang him/herself while being transported?
08/03/2022
News
2307
99
Anonymous
Earn Rewards Live
Comments