Results for - Freudian Slip-Up...
2,117 voters participated in this survey
A Freudian slip, also called parapraxis, is an error in speech, memory, or physical action that occurs due to the interference of an unconscious subdued wish or internal train of thought. The concept is part of classical psychoanalysis. Well, as usual, this week, Trump's twitter-happy finger got the best of him as he tweeted "Russia, Russia, Russia! That's all you heard at the beginning of this Witch Hunt Hoax…And now Russia has disappeared because I had NOTHING TO DO WITH RUSSIA HELPING ME TO GET ELECTED. It was a crime that didn't exist" (Capitalization mine) in response to the Mueller's address. The operative words being "Russia helping me to get elected" --

1. Did Trump's Freudian slip actually just reveal that he knows Russia was behind getting him elected?
Not sure, but someone has to take that Twitter account away from him!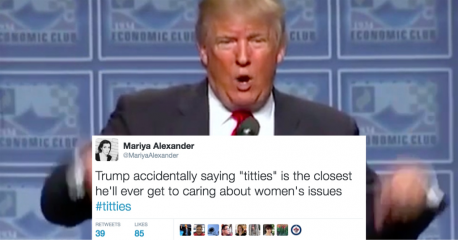 2. Actually, you could probably compile a book with Trump's Freudian slips. Some are very revealing, some are very revolting, and some are just funny. Do you remember any of these?
In October 2016, he said, "If we don't win, then all it is, is a little asterisk in history, there's never been anything like this," said Trump, evoking America's preferred direction for his discriminatory presidential campaign, "so go out and register, make sure you vote November 28." -- Trump failed to persuade a federal judge to postpone a Nov. 28 trial in which he'd face former enrollees in his real-estate seminars who claim they were cheated. Remember the date of the election was November 8
In February 2019, he said, "Since the founding of our nation, many of our greatest strides, from gaining our independence to abolition of civil rights, to extending the vote for women, have been led by people of faith and started in prayer." -- The "abolition of civil rights" is one of our greatest strides? And during Black history month no less!
In a speech in August 2016, he said "Our lower business tax will also end job killing corporate inversions and cause trillions in new dollars and wealth to come pouring into our country and, by the way, into titties like right here in Detroit," -- yes, that's right "titties" instead of "cities" .
Showing his excitement over the expected imminent approval of Supreme Court nominee Kavanaugh, Trump tweeted the news that "Women for Kavanaugh, and many others who support this very good man, are gathering all over Capital Hill in preparation for a 3-5 P.M. VOTE." -- except it's Capitol Hill, and not Capital (as in money)
In August 2018, he tweeted "Why isn't the FBI giving Andrew McCabe text massages to Judicial Watch or appropriate governmental authorities" -- massages? Do we see a trend here?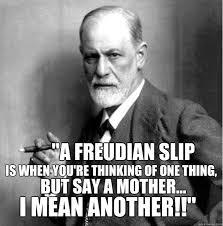 3. In his defence, Trump is not the only one who has made revealing or hilarious Freudian slips. Here are a few more, over the years. Which ones do you remember?
Former US president George W Bush, asked about his Midland, Texas upbringing, said "It was just inebriating what Midland was all about then". -- I guess it may be true that he was a heavy drinker in his youth.
"We are raising more money for the rich," British PM David Cameron told the House of Commons in 2012.-- although he meant for the "poor or middle class" a little bit of truth in that statement isn't there?
Kanye West famously tweeted: "Up early in the morning taking meetings in Silicone Valley." -- maybe he was thinking of his wife's famous attributes when he misspelled "Silicon"
During a speech at a DNC fundraiser, then President Obama said, "We should be reforming our criminal justice system in such a way that we are not incarcerating nonviolent offenders in ways that renders them incapable of getting a job after they leave office." -- he meant after they leave "prison", of course
In the middle of her mom's primary campaign fight against Bernie Sanders, Chelsea Clinton accidentally referred to Hillary's rival Democratic presidential candidate as "President Sanders" instead of "Senator Sanders," Oops!
06/07/2019
Politics
2117
94
By: Harriet56
Comments