Results for - City council member Kenneth Stokes (Jackson, MS) puts his foot in his mouth
1,361 voters participated in this survey
Gov. Phil Bryant calls "reprehensible" Jackson Ward 3 Councilman Kenneth Stokes' statements suggesting that rocks, bricks and bottles be thrown at police officers from other jurisdictions who chase misdemeanor suspects into Jackson. "Mr. Stokes' remarks are reprehensible, particularly with the attacks we have seen against our men and women in law enforcement," Bryant said in a statement late Friday. "I condemn any such remarks in the strongest possible manner. This is nothing short of an outright assault upon all who wear the badge. I will be asking Attorney General Jim Hood to investigate whether Mr. Stokes' remarks represent criminal threats against law enforcement officers." Stokes made the statements Thursday during a news conference condemning police chases from other jurisdictions into Jackson. He repeated the statements Friday in an interview with The Clarion-Ledger. "My position is this: When you have these police officers coming from other jurisdictions and they will not respect human life, then I said we should use rocks, bricks or bottles to try to get the message over: stop endangering our children," Stokes said. "Now I have supported police officers in police departments all over this state from when I was a (Hinds County) supervisor when we voted for new cars and equipment for police officers. I opened and closed the last council meeting in honor of an officer who had died. I have named streets after officers in this city." Those commenting on social media have blasted Stokes for his statement. One person suggested Stokes should be arrested for inciting violence against police. Another wrote: "Just thinking this cannot be true. Can it be possible that a sworn in official of a city would even think this much less make a statement of this nature. Outrageous!" Madison County Sheriff Randy Tucker said in a Facebook post to Stokes that law enforcement will not be intimidated by him. "Any Madison County law enforcement that is attacked because your ignorant statements, I will hold you responsible," Tucker said. "I fully intend to contact the MS (Mississippi) attorney general and inquire if your statements constitute assaults on officers by threat." Hood said Saturday in a Facebook statement that comments and actions that put law enforcement officers in harm's way cannot be tolerated. "Frustration or dissatisfaction with police policies or procedures does not give any person, especially an elected official, the right to jeopardize the safety of officers," Hood said. "We should instead be focused on cooperation and mutual respect between citizens and law enforcement. Certainly, the Office of Attorney General will investigate any complaint received in this or any other matter." Jackson Mayor Tony Yarber said on Twitter that while there is a need to demand respect of jurisdictional boundaries, he could never condone violence against officers. UPDATED In a statement Saturday, other members of the City Council have also condemned Stokes' comments and said his comments didn't represent the council or the city. City Council President Melvin Priester Jr, said: "As president of the City Council I can say unequivocally that Councilman Stokes' comments are indefensible and do not represent the Jackson City Council or the City of Jackson. Following Councilman Stokes' comments, I have spoken personally with the other members of the council and we are in agreement that the Jackson City Council does not support any calls for acts of violence against those who serve as members of law enforcement." Councilman Priester stated further, "Moving forward, it is imperative that we renew our efforts to work with surrounding communities to find common ground regarding regional pursuits and the safety concerns posed by high speed chases in the metro area. I hope that Councilman Stokes' unfortunate and unacceptable words do not prevent us from achieving an effective regional pursuit policy throughout the metro area." Priester said the safety of the citizens of Jackson and the safety of those who work tirelessly to serve and protect is of utmost importance. While concern may be voiced over high speed pursuits within city limits and the legitimate danger they pose to innocent by-standers, such concerns do not justify calling for violence against law enforcement, he said. Over the last several years, Jackson officials have raised concern about high-speed chases in the city involving law officers from surrounding police departments. Stokes said he was told by residents of a high speed chase on Mobile Avenue on Christmas Eve involving police officers from Flowood, Ridgeland, and perhaps Pearl. "There is no question of my love and respect for police officers; my first degree was in criminal justice," Stokes said. "I almost became a police officer, but somewhere down the line, we have to draw a line between officers who put human beings safety in jeopardy versus using common sense. I don't consider these police officers. I consider them thugs." The Clarion-Ledger was unable to reach police chiefs from the three cities on Friday. "These kind of chases put children in danger," Stokes said. "They said parents were trying to get their children out of harms way. Now, it is our position that if it is a misdemeanor, you shouldn't be putting children and the elderly in danger." "Now, if you are talking about a murderer or a bank robbery, then this is person who may be a little more dangerous to the community, but not a misdemeanor," Stokes said. "We have had this discussion over and over again, but it looks like these jurisdictions have taken the position they don't care. And that is the wrong position to take. What are you going to do — wait until someone is killed?" "The City Council must take steps to address this recurring problem," Stokes said. "Outside jurisdictions chasing suspects around Jackson neighborhoods must not be allowed."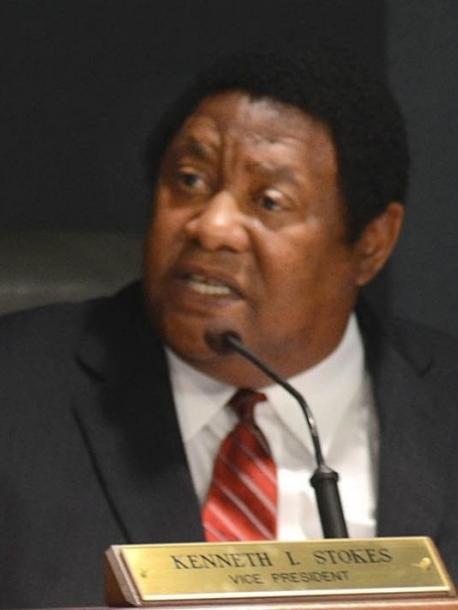 1. Did you hear the story about the Jackson, Mississippi council member, Kenneth Stokes, who encouraged citizens to throw rocks, bricks and bottles at police officers from other jurisdictions in their neighborhoods?
2. Did you hear that the Governor, Phil Bryant, was asking the Attorney General to look into filing charges against Mr. Stokes for inciting violence before this survey?
3. Do you feel that Mr. Stokes should be brought up on charges of inciting violence against police, given his position of authority on the Jackson City Council?
4. In addition, other members of the City Council have distanced themselves from Mr. Stokes and have publicly announced that they, in no way, support his comments. Did you know about this prior to this survey?
5. Do you think elected officials should be able to be removed from office for comments such as these that do not represent their constituency?
01/18/2016
Politics
1361
48
Anonymous
Earn Rewards Live
Comments