Results for - Christian School Expels Student For Posing With Her Rainbow Birthday Cake
2,356 voters participated in this survey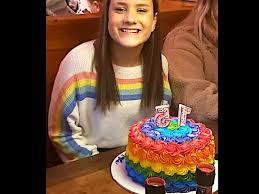 1. A private Christian school in Kentucky expelled a student last week after officials saw a picture of her posing with a rainbow birthday cake. Kayla Kenney, a freshman at Whitefield Academy in Louisville, went to a restaurant to celebrate her 15th birthday in late December. Her mother took pictures of her blowing out her candles on top of her rainbow themed cake, and posted it on social media. The photo was seen by Whitefield Academy officials and days later, Kayla received an email from the head of the school, Bruce Jacobson, expelling Kayla from Whitefield immediately due to a post on social media. Have you heard about this story?
2. In the photo, Kayla is wearing a sweater, with a rainbow on it, posing in front of a rainbow-coloured cake. The rainbow and the rainbow flag are associated with LGBTQ pride and some religious organizations have disavowed people who identify as LGBTQ. The email to Kayla's family outlined that she demonstrated "a posture of morality and cultural acceptance contrary to that of Whitefield Academy's beliefs" and the photo was the last straw in a series of "lifestyle violations." In October the 15 year old had been found to have Juul pods in her backpack, and was on probation, but had not had any issues since then. The school says she has also had issues involving a haircut, and missing classes. Do you believe the school was right in expelling her for this photo?
Yes, well within their rights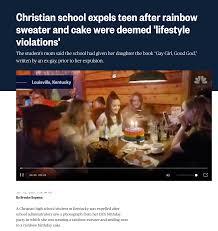 3. Both Kayla and her mother insist that Kayla is not gay, and that she just likes rainbows and bright colours. The school feels they are within their rights to expel her when there is "a serious departure from the school's guidelines for students conduct". A section on student behaviour says the school's "biblical role is to work in conjunction with the home to mold students to be Christ-like." "On occasion, the atmosphere or conduct within a particular home may be counter or in opposition to the biblical lifestyle the school teaches. This includes, but is not limited to, sexual immorality, homosexual orientation or the inability to support Biblical standards of right and wrong," the handbook states. "… In such cases, the school reserves the right, within its sole discretion, to refuse admission of an applicant or to discontinue enrolment of a student." Do you think the school has the right to expel someone based on their perception of "immorality" without even hearing the girl's side of the story?
4. In a separate incident, her mother alleged that the school recommended her daughter read Gay Girl, Good God, a book about a woman who stops identifying as a lesbian after a religious experience. In the light of this, do you think the school expelled Kayla because they thought she was gay?
01/23/2020
Education
2356
150
By: Harriet56
Comments