Results for - Country Music Legend And Mental Health Advocate Naomi Judd Dies
2,347 voters participated in this survey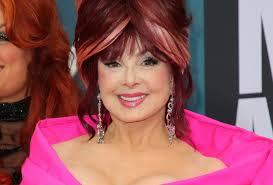 1. The world lost more than just a country music legend. Naomi Judd, who died at age 76 on April 30, just a day before her induction into the Country Music Hall of Fame with her daughter Wynonna, was an example of a strong woman who inspired a generation of working-class women and an active mental health advocate. The news that her death was by suicide was sad, but not surprising, given her long time struggles with her mental health. Were you a fan of Naomi Judd?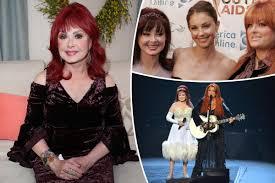 2. Born in the coal-mining town of Ashland, Kentucky, Naomi was just 18 when she gave birth to Wynonna. By her early 20s, she was a single mother of two subsisting on food stamps and welfare. While working as a nurse, Naomi landed an audition at RCA with the help of one of her patients. Naomi and Wynonna — then only 18 — were quickly signed to the label and topped Billboard's country album chart in 1984 with their debut LP, Why Not Me. Fourteen No. 1 songs, five Grammys and album sales of more than 20 million followed. Sadly, she was forced to retire from performing when diagnosed, in 1991, with life-threatening hepatitis C. She turned to acting, and then motivational speaking, but without performing, she always felt she had lost her purpose. Her crippling anxiety and depression took over, and in the end, she just could not continue her journey. Were you aware of her struggles with mental health?
Did not really know who she was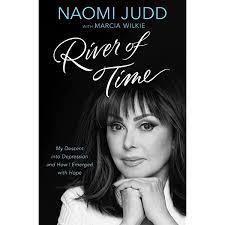 3. Naomi is being remembered by her family (besides Wynonna she leaves her husband and daughter Ashley), friends, and especially her fans, as a kind, compassionate woman who was an "open book". She was very open about her mental health struggles, and was always willing to talk to anyone who felt they needed help. In her book, "River of Time: My Descent into Depression and How I Emerged With Hope," Judd wrote about experiencing the "boulder-like weight of my severe treatment-resistant depression and terrifying panic attacks." She brought focus and attention to not only her condition but also to millions– about 1 in 5 adults – who suffer from mental illness. She became as much an advocate as an entertainer in recent years – and proved unflinchingly courageous in her disclosures, and uncomfortably honest in describing the depth of her pain. Sadly, that pain proved too much for her, and the world has lost not only a beautiful entertainer and soul, but one of its biggest mental health advocates. Do you suffer from any mental health issues?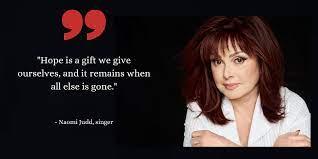 4. When someone dies of a physical illness – much less a mental health condition – it's common to say they lost the battle. I disagree. Their battle may be over, but how it ended isn't what determines whether they lost. It's how they lived their lives. It's the difference they made to others. It's the stories and memories left behind that stay with us. Which of these now only too poignant quotes from Naomi Judd do you like?
Your body hears everything your mind says.
A dead end street is a good place to turn around.
No one's born with their destiny stamped on their forehead ... we make the choices to fulfill our destiny.
You only get to be a victim once. After that, you're a volunteer.
Slow down, simplify and be kind.
Experience gives us the tests first and the lessons later.
Hope is a gift we give ourselves, and it remains when all else is gone.
You shouldn't be ashamed of your pain. You have the right to have your pain treated.
05/11/2022
Celebrities
2347
50
By: Harriet56
Earn Rewards Live
Comments