Results for - James Barber
1,534 voters participated in this survey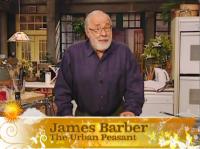 1. James Barber was a CBC television celebrity chef, have you ever watched his show, titled "The Urban Peasant"?
2. Here are some of his most famous quotes. Which one do you like best?
"Cooking, like sex and dancing, is a pleasure best shared."
"Cooking is like making love. If you're not making a mess, you're doing something wrong."
"Just get out there and do it. Make mistakes. Challenge yourself, and put energy into what you love."
From the latest cook book: "It's also a book about pleasure. Two people in the kitchen can have as much fun as two people in the bath".
3. Did you know that he traded his career as an engineer for one as a food writer and celebrity?
Yes, good for him for making a go of it
Not applicable, never heard of him
4. While in the British Forces, he spent part of it behind German lines and talked about Italian mums feeding their kids from garbage cans with spoons, and learning to use what they had. It was "peasant cooking" he said, hence the seed to where the title of his television show was born, were you aware of this?
Not applicable, never heard of him
5. If you saw someone eating out of a garbage bin, would you try to help and feed them a proper meal?
Yes, I could at least share or buy them a meal
No way, they're on their own
09/14/2015
Celebrities
1534
16
By: BelLise
Comments