Results for - The Show Must Go On
1,888 voters participated in this survey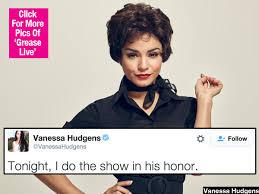 1. Actress Vanessa Hudgens received rave reviews for her portrayal of Betty Rizzo in Sunday's 'Grease: Live" on Fox, no mere feat considering her father passed away the day before her performance. Fighting back tears, Vanessa performed so as not to let her fans down, and dedicated her performance to her dad. Do you admire her dedication?
Wonderful tribute to her dad, and very brave of her to perform in light of all this
She should have cancelled her performance and not gone on
A mixture of admiration for her, and surprise that she did indeed perform
Not sure who this is/Undecided
2. Athletes often take the saying "the show must go on" to extremes, competing under severe pain and unimaginable circumstances. How many of these do you recall?
Shun Fujimoto helped Japan win the team gymnastics gold medal at the 1976 Olympics after breaking his kneecap. He competed on the rings with the injury, and ended up dislocating it when he landed
Tiger Woods won the 2008 US Open on a broken leg and torn ACL. He had to fight through 91 holes in total after it went to a playoff
Keri Strung helped the US gymnastics team win gold in 1996 with an amazing vault right after spraining her ankle
Manchester City goalie Bert Trautmann finished the 1956 FA Cup with a broken neck
Michael Jordan scored 38 points with the flu in Game 5 of the 1997 Finals
Five weeks after getting in a car crash that resulted in him losing 30 inches of intestines, Southern Miss QB Brett Favre beat Alabama in 1990
3. Several years ago, my cousin married her husband hours after hearing that her beloved grandmother had just passed away. The family discussed postponing the wedding but decided that her grandmother would have wanted everything to go on as planned. Has your family ever had to make a decision along these lines, and what did you do?
Yes, something similar, and we continued with the plans
Yes, something similar, but we cancelled/postponed our plans
Nothing like that has ever happened to us
Never have been faced with something like this, but not sure what I would do
Never have been faced with something like this, but I would change our plans
Never have been faced with something like this, but I would continue with our plans
02/07/2016
Celebrities
1888
20
By: Harriet56
Comments