Results for - Grocery Shopping
54,384 voters participated in this survey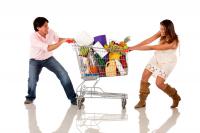 1. Where do you do most of your grocery shopping?
2. Do you bring your own bags when you shop for groceries?
3. How much do you usually spend when you buy groceries?
4. Do you return your cart to the designated shopping cart area?
5. How do you decide which brands to buy?
You're loyal to specific brands
You get whatever is on sale
6. How many items are on your shopping list on your refrigerator door right now?
07/03/2018
Food & Drink
54384
186
By: Quizmaster_154
Comments