Results for - Cookies?
258 voters participated in this survey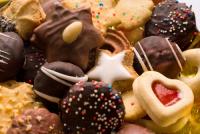 1. Could you make cookies right now without a recipe?
2. What is your favorite cookie?
3. How many cookies do you usually eat at one sitting?
4. Do you purchase cookies from Girl Scouts/Guides?
5. If you answered YES to the above question, what do you then buy from them?
Classic chocolate and vanilla cookies
Do-Si-Dos (peanut butter sandwhiches)
Tagalongs (peanut butter patties)
Don't buy cookies from girl scouts/guides.
6. Which of the following ingredients do you most want in your cookie?
05/24/2012
Food & Drink
258
8
By: Quizmaster_154
Comments