Results for - Histrionic Personality Disorder
1,541 voters participated in this survey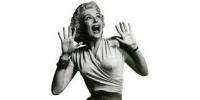 1. Histrionic personality disorder is characterized by a long-standing pattern of attention seeking behavior and extreme emotionality. Someone with histrionic personality disorder wants to be the center of attention in any group of people, and feel uncomfortable when they are not. While often lively, interesting and sometimes dramatic, they have difficulty when people aren't focused exclusively on them. People with this disorder may be perceived as being shallow, and may engage in sexually seductive or provocative behavior to draw attention to themselves. It is more prevalent in females; about 1.8% of the population have HD. Have you heard of Histrionic Disorder before?
2. Do you know anyone who has been professionally diagnosed with HD?
I have been diagnosed with HD
I know at least one person that exhibits the symptomology of HD
3. When thinking of HD and its symptoms, does it seem like it would be a challenge to be around someone like this?
Depends for how long or where
No, because they have some traits that I don't, so I wouldn't mind
09/17/2015
Health & Fitness
1541
22
By: ptajuggalette
Comments