Results for - Wanna go Jellyfishing?
1,639 voters participated in this survey
1. There's an island in Palau where the lake is so isolated the jellyfish grow without defenses. They're stingless! Did you know this? https://en.wikipedia.org/wiki/Jellyfish_Lake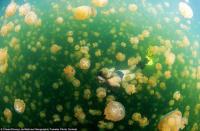 2. I think it's beautiful and would love to swim with them. Would you?
10/16/2015
Living
1639
18
By: milyvan
Earn Rewards Live
Comments