Results for - Sea Snake
1,588 voters participated in this survey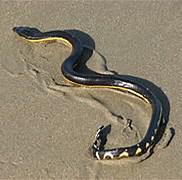 1. Rising ocean temperatures and warming climates brought by El Niño may be the reason an exotic and highly-venomous sea snake washed up on a California shoreline. Have you heard of a yellow-bellied sea snake before this survey?

2. These dangerous creatures typically spend their entire lives in the ocean, and this is the first time the animal has been spotted in the Southern California area in about 30 years. Do you have plans to walk the shore in CA anytime soon?
3. The snake found Friday died shortly after being transported to the U.S. Fish and Wildlife Service's office in Ventura. The species is entirely aquatic. Seeing a yellow-bellied sea snake wash ashore indicates that the animal is most likely ill or injured. Does it make you feel a little better knowing that this was a rare occurrence?
10/27/2015
Living
1588
16
By: sarahzahm
Earn Rewards Live
Comments