Results for - Photoshopping Babies?
1,960 voters participated in this survey
1. A Reddit poster recently uploaded a photo of a Huggies ad she came across, in which she thought the baby's thighs looked unnatural. Did you hear about this?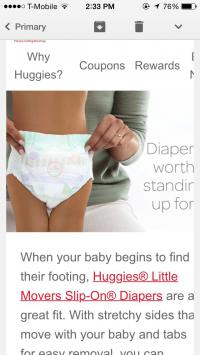 2. Here is the photo. Melody, the mother of an 11-month-old, feels like the baby's thighs do not look natural, as if they have been digitally altered, or slimmed. What do you think?
Those thighs have definitely been altered!
They do look odd, but I'm not certain.
I do not think they have been filtered.
3. Huggies responded to this situation by saying they never alter the bodies of the children they use, and that they really strive to find variety in the kids that they use. Do you believe them?
4. Would you boycott Huggies over this?
11/04/2015
Living
1960
35
By: MamaV1776
Comments