Results for - Teen Takes On Online Bullies And Turns It Into Something Positive
1,757 voters participated in this survey
1. Lynelle Cantwell, a grade 12 student at Holy Trinity High School outside St. John's, Newfoundland, in Canada, was named in a poll posted on the website ask.fm called 'Ugliest Girls in Grade 12.' The website also posted a list of the prettiest girls. She learned about her name being on the list and was initially devastated, but then decided to take this experience and try to turn it into a positive. She posted a message on Facebook to address the bullies. "I'm sorry that your life is so miserable that you have to try to bring others down. I'm funny, nice, kind, down to earth, not judgemental, accepting, helpful and I'm super easy to talk to. That's the same for every other girl on that list that you all put down. Just because we don't look perfect on the outside does not mean we are ugly." What do you think of her response to this incident?
She's mature beyond her years and truly an inspiration
She responded in the best way possible to this posting--taking the high road for sure
She should have ignored this posting and showed the bullies their words means nothing to her
She should have retaliated with a hateful comment of her own on Facebook
She should have reported it to the school or perhaps the authorities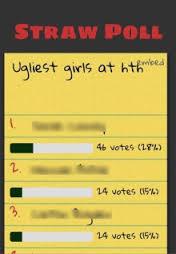 2. The post went viral and has been shared more than 2,500 times as of last Thursday afternoon. Cantwell said she's been overwhelmed by the response, which has included messages from as far away as Alberta. She even had flowers sent to her door. Do you think she could possibly inspire others to take the high road when it comes to online bullying?
3. Online bullying has been a problem at her school, and not just this school. It is a major problem in this day and age of social media and anonymity. A posting can go viral in minutes, and once it is seen, it cannot be "unseen". Do you agree or disagree that the only way to fight online bullying is with online positive messages, such as this one?
I agree it is the only way
I disagree--there has to be a better way to combat it
Maybe depends on the situation and the severity of the posting
Not only is it the only way, it is a powerful way to get your positive message across
I think it is the wrong way to go about battling online bullying
12/12/2015
Living
1757
42
By: Harriet56
Earn Rewards Live
Comments