Results for - Who will be voted the next US President in November 2012 and what are the critical issues for this campaign? What's the pulse for October 31 - November 5, 2012?
1,308 voters participated in this survey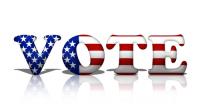 1. Who will you vote for as US President, November 2012
Barack Obama (incumbent Democrat)
I am American and I have no plan to vote
2. What are the most critical issues of this campaign? Check all that apply
Continued involvement by the government re bailouts, debt ceiling or entitlements
Environment and control of global warming
Handling of Foreign affair issues - Iran, Libya
High rate of unemployment
Legalizing same sex marriage across the US
Management of the 14 trillion of debt
Proposed handling of the Cliff which relates to deep cuts in spending set for December 31, 2013
Spending on the war in Afghanistan
Tax increase on the wealthy
3. Regardless of who you plan to vote for, whose policies do you prefer?
Democrats
Republicans
Not Familiar with their Policy
N/A
Taxation to Individuals
33%
(433)
20%
(260)
12%
(160)
35%
(455)
Taxation to Businesses
30%
(397)
22%
(286)
13%
(167)
35%
(458)
Foreign Policy
30%
(397)
19%
(254)
15%
(195)
35%
(462)
Unemployment
31%
(402)
21%
(279)
13%
(166)
35%
(461)
14 Trillion Dollar Debt
29%
(375)
22%
(283)
13%
(176)
36%
(474)
11/05/2012
USA 2012
1308
17
By: sassy
Comments