Results for - Put it on my "Chargers" account!
1,621 voters participated in this survey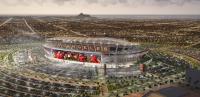 1. Los Angeles is building a new football stadium, and so far three teams are interested. You don't need to live in LA or be a sports fan to answer; you can think of it as a business proposition. Who would you like to see come to LA and be LA's very own Football team?
Have LA make a brand new team
2. Like many other LA issues, there is always rumor of controversy. Upon discussing the prospects of a team, some people think that the teams that are filing paperwork, just want the new stadium. Others think they just want a fresh new city to play in. What do you think?
The team wants to play in a new city
The team wants a new stadium
Bit of both: wanting a move and a new stadium
3. Since there are so many things that LA is known for, pick what name for a new team that you like?
The Los Angeles Millineums (no explaining needed)
The Los Angeles Cats (Cause there be bobcats in our mountains)
The LA Gold (For the academy awards)
11/03/2015
Sports
1621
22
By: ptajuggalette
Comments