Results for - The Genius And Far Side Of Gary Larson
2,250 voters participated in this survey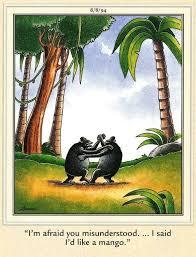 1. Always drawn to nature, Gary Larson spent his youth exploring the woods and swamps near his home. Oddly enough, this love of nature led him to become a cartoonist, whose prime target of humour WAS nature. Though he loved to draw as a child, Larson didn't formally study art, nor did he consider being a cartoonist. He graduated in 1972 with a degree in communications but took many classes in the sciences. He was working in a music store (music being another of his passions) when he realized how much he hated his job. During that time, he decided to try cartooning. In 1976, he drew six cartoons and submitted them to a newspaper, and the rest is history. In 1990, Larson received the Regents' Distinguished Alumnus Award and was the centennial commencement speaker. His talk was titled "The Importance of Being Weird" -- a fitting talk given his love of the weird. His most famous achievement was by far The Far Side cartoons, which he created for fifteen years, from 1980 to 1995. Are you a fan of The Far Side?
Have never seen any of these comics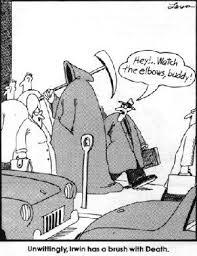 2. In 2019, after 25 years "retirement", Larson released his comics online -- something he had never done -- and then, in 2020, he started to release some new comics called "New Stuff". He felt the world may need a good laugh in 2020, but promised the comics would have the same eternal appeal as all his other work -- not relying on pop culture or topical references. Do you like his style of humour?
Not familiar with his style of work
Not familiar with his style of work, but from what I see here, I like it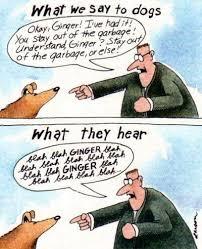 3. Larson has some favourite targets -- notably cows and household pets. Do you appreciate the humour in this strip?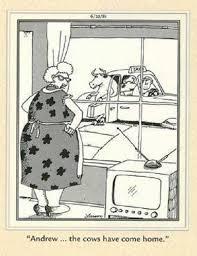 4. How about this one?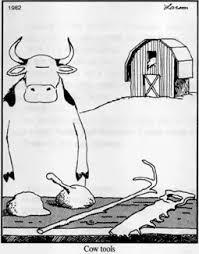 5. Larson did not always hit a home run. One of his most maligned comics was so odd, Larson himself had to issue a statement defending it. It was supposed to satirize the outdated anthropological belief that, of all creatures, only Homo sapiens make tools. Larson said "The cartoon was meant to be an exercise in silliness. I regret that my fondness for cows, combined with an overactive imagination, may have carried me beyond what is comprehensible to the average 'Far Side' reader." OK, so here it is -- do you get it (I certainly did not)?
Yes, but only after reading the information in the question
Did not even waste any time trying to get it
01/17/2021
Trivia
2250
34
By: Harriet56
Comments