The Crosstab Feature For Your Online Survey Results is Now Available at Tellwut!
Tellwut
recently introduced an online survey software
feature
called the crosstab report. It is a tool that helps Tellwut business users analyze survey results in a more detailed manner by providing information about survey responses in two dimensions - horizontally and vertically. That way, when slicing up the collected data, you can really understand specific patterns and investigate the correlation between particular survey answers for your
online market research
.   To better understand what I mean I will give you an example with a recent online survey at Tellwut. We asked our panel what they thought about
Starbucks' CEO Howard Schultz's request
to gun-owners not to bring their guns when visiting Starbucks locations.   X, Y, Z participated in this survey to express their opinions on the topic. When the survey was completed, the survey results showed that the majority of people approved of Howard Schultz's decision and thought that other companies should follow his example.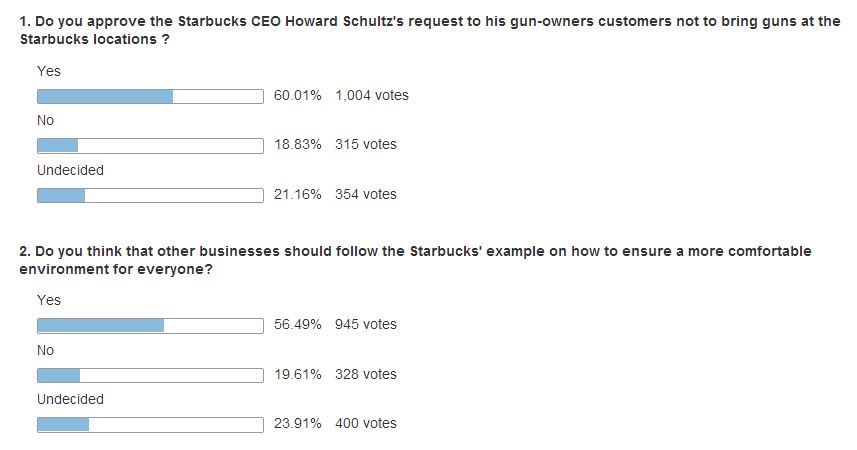 Above shows the basic survey results. (Click on the image to enlarge.)
This general survey report only shows the vertical dimension of the answers that X,Y, Z and the other participants contributed. What the statistics did not show and what we wanted to know was what the individual responses towards the issue were. That is when cross-tab comes in handy.

This is a print screen of what the crosstab survey report looks like. (Click on the image to enlarge.)
  The crosstab survey report is downloadable in a CSV file with just a click of a button and it is ready for you to analyze.   Now, you can look not only at the
answers
to the
question
in the columns but also in the rows and glance at the correlation of the individual responses of X, Y, and Z to the other questions. Using the crosstab report you can sort out just the group of people that are of interest to you and drill in deeper. For instance, if you are interested in looking into the answers of people who have approved Howard Schultz's act to ask gun-owners not to bring their weapons in store but also don't think that other companies should follow his example, with
crosstab
report you can easily do that. Moreover, if you ask your survey participants to provide you with their demographic information, you could also find out valuable insights into a particular group of people's gender, location or age. If you have asked them whether they are gun owners you could also determine if the answers are affected by the fact they own weapons. To generate a crosstab report of your survey results, you need to select the "Detailed Export" button on your "Survey Report" page and click on it.
See below for reference: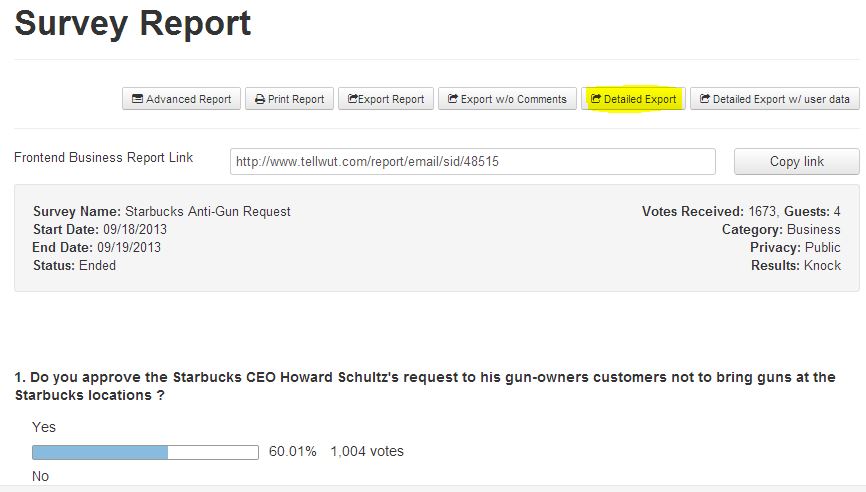 If you are interested in learning more about this feature, please contact us at support@tellwut.com
Happy Surveying!